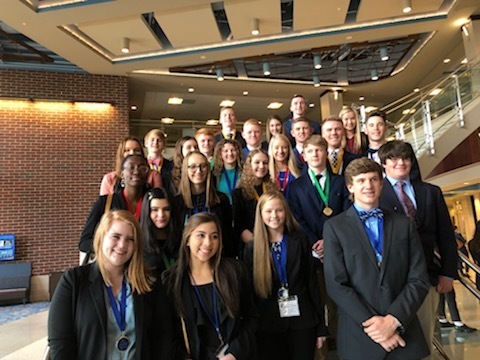 Dixie High School Students Named Winners at FBLA Conference
Kimberly Ware
Monday, January 27, 2020
At the Future Business Leaders of America District I Leadership Conference Jan. 25 at Dorman High School, Dixie High School students were the recipients of numerous district awards.
The following awards were received: Advertising – Ivie Gray; Broadcast Journalism – Ryanne Sutton and Savannah Wojtkowski; Economics – Lawson Gamble; Emerging Business Issues – Team of Conner McLean and Ashley Dent; Entrepreneurship – Team of Reagan Thompson, Dawson Glenn, Caleb Freeman; Introduction to Business – Will Wieters; Introduction o Business Communications – Ashton Crocker. Marshall Dunn, Hunter Satterfield; Introduction to Business Presentation – Meagan Hill and Bradley Ware; Introduction to Financial Math – Emalee Mann, Vance Anderson; Sports and Entertainment Management – Team of Landon Mitchell, Sidney Sone and Nolan Prince; Management Decision Making – Team of Blake Allen and Justin Anderson. Also attending were Catherine DeSpain, Mati Cox and Hailey Hill.
Eligible FBLA members will represent Dixie High School in the State Competitions to be held in Charleston in March vying to compete at nationals in Salt Lake City, Utah this summer. FBLA-PBL is the largest business career student organization in the world. The high school division has over 300,000 members. Dixie FBLA advisors are Beverly Spivey and Jason Burton.